Norfolk's Best Pub And Beer Gardens
Beer gardens are not difficult to come by here in Norfolk. Whether you're in the countryside, central Norwich or boating on The Broads, you can almost always find one close by.
Now more than ever we need beer gardens. Social distancing made easy, it's become possible for us all to stay safe, absorb some sun-rays and still enjoy a lovely cold pint.
With so many great beer gardens and riverside pubs, choosing can feel almost impossible. Not to mention when you've found a great one, there's always the temptation to stick to what you know!
Luckily for you, we've done the hard bit and wrote you a list of pubs you need to visit before winter arrives. Check out the Norfolk Holiday Properties' top beer garden recommendations below:
Coldham Hall (Surlingham)
Surlingham's Coldham Hall made another of our blog posts recently, and we just couldn't resist choosing it again.
As beer gardens go, they do not come much more perfect than this. Located in the small town of Surlingham on the waters edge of the River Yare, this fantastic pub is easily worth the short drive from Norwich.
Marvellous riverside views can be enjoyed whether sitting in the grassy garden or on the large wooden decking area. There's plenty of outdoor seating, with lots of space making it easy to social distance. The pub has a well organised system, bar staff seating customers on arrival and table service only.
If you haven't yet felt comfortable going to a pub since they re-opened, this is a good one to start with.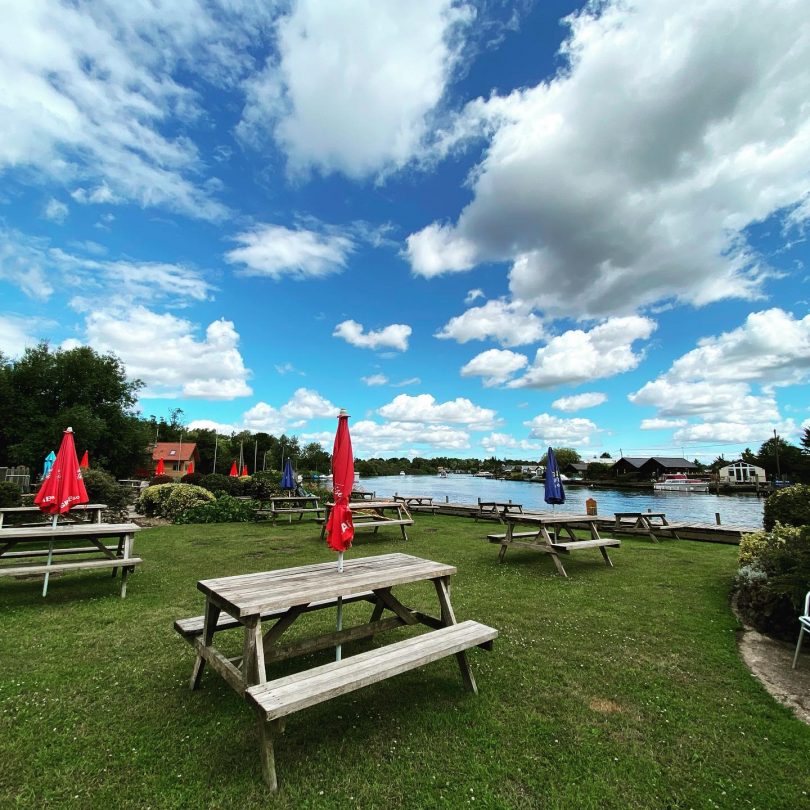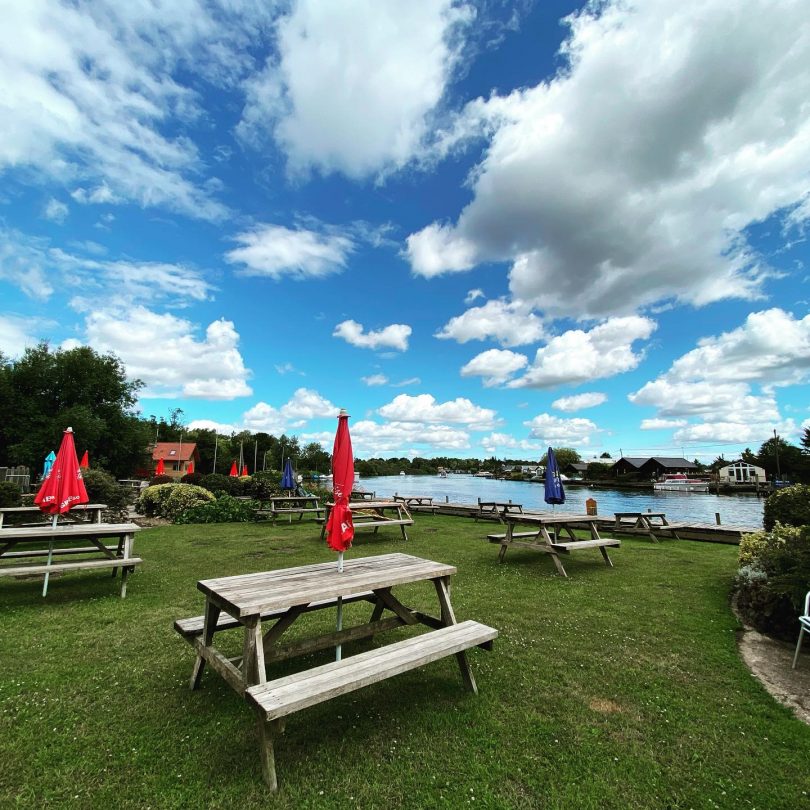 Geldeston Locks (Geldeston)
Well known amongst locals who live to the East of Norwich, Geldeston Locks is a magnificent pub idyllically located by the river. Hidden away down a long windy track, you'd be forgiven for thinking you've taken a wrong turn!
Remain patient, and you shall almost certainly be rewarded. A huge garden with an abundance of benches and various seating there's plenty of room for all. Sit in the garden, down by the river, or even take your pint over the walkway by a bridge for some lovely marshland views.
Whether you're arriving by car, boat or on foot you can be sure to have a pleasant afternoon when visiting Geldeston Locks.
TIP: If you enjoy a red beer, we would strongly recommend trying a pint of Redwood. Delicious!
Check out Heckingham Park if you're looking for accommodation nearby!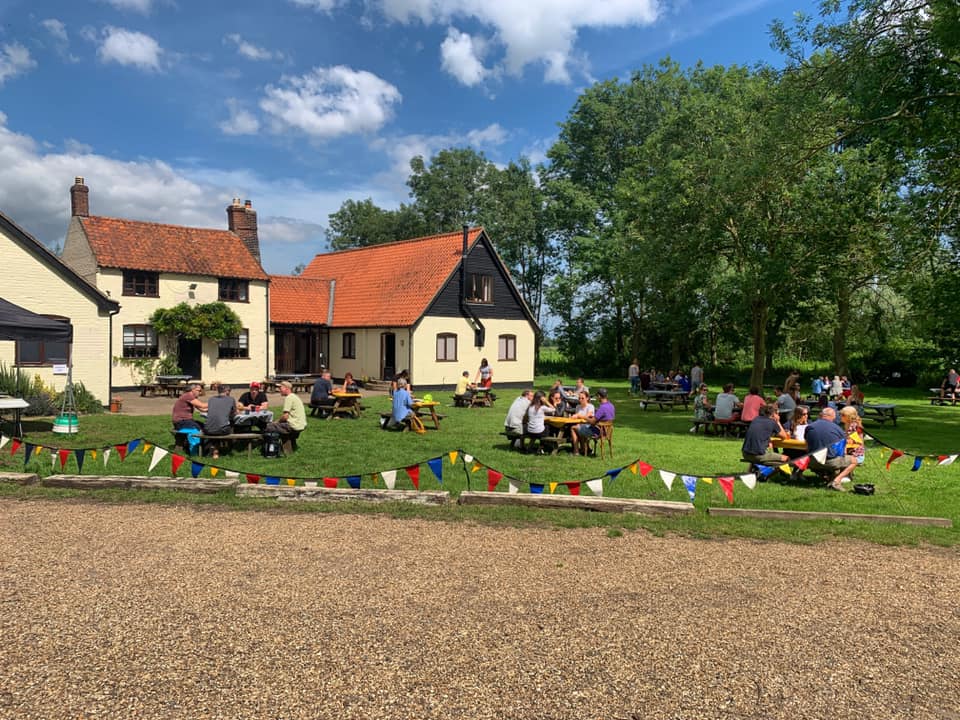 Georgian Townhouse (Norwich)
Even in the city you can find some brilliant beer gardens. The Georgian Townhouse offers a lovely large garden with ample seating and a great selection of beers. Not to mention their outdoor pizza oven!
Having launched a new app which allows customers to order from their table, everyone can feel safe and remain socially distanced.
A short walk from our lovely one-bedroom and two-bedroom, York Terrace apartments, this is a great choice for those looking to soak up some city centre sun!
The Rushcutters Arms (Thorpe St Andrew)
Just outside of the city, along Yarmouth road you'll come across a range of terrific river pubs located on the River Yare.
One of which is The Rushcutters Arms, an old 16th century grade II listed building with a beautiful riverside garden. A great spot to enjoy a crisp one in the summer, you can relax and unwind watching the boats and barges gently cruise past.
An extensive menu filled with seasonal specials and your usual pub classic, it makes for a nice lunchtime stop if your out for a day on the river.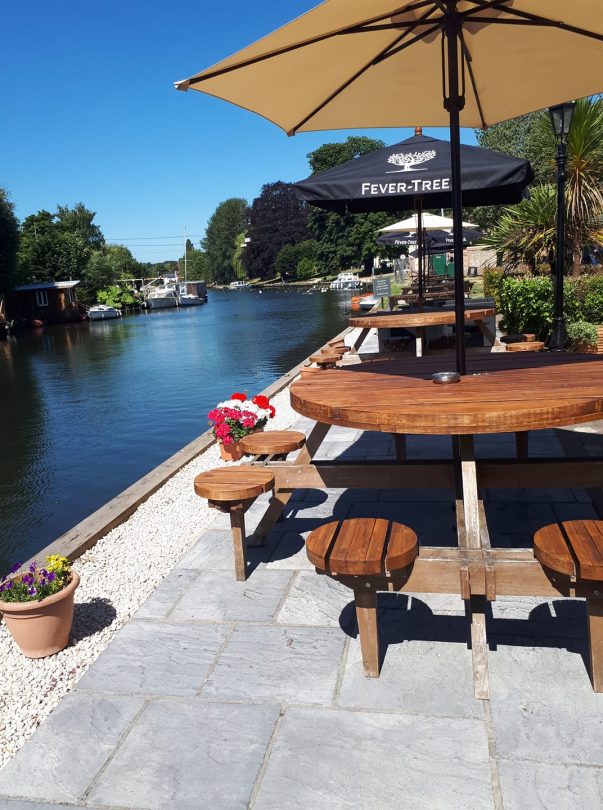 The Dun Cow (Salthouse)
The local pub to guest favourites – Marlpit and Tystie Cottage – the Dun Cow quite possibly has the finest views of all.
A beautiful beer garden in which to experience some incredible views over the Saltmarshes – made even better by sunset!
Description really doesn't do this beer garden any justice. There's only one way to get the full experience of The Dun Cow beer garden!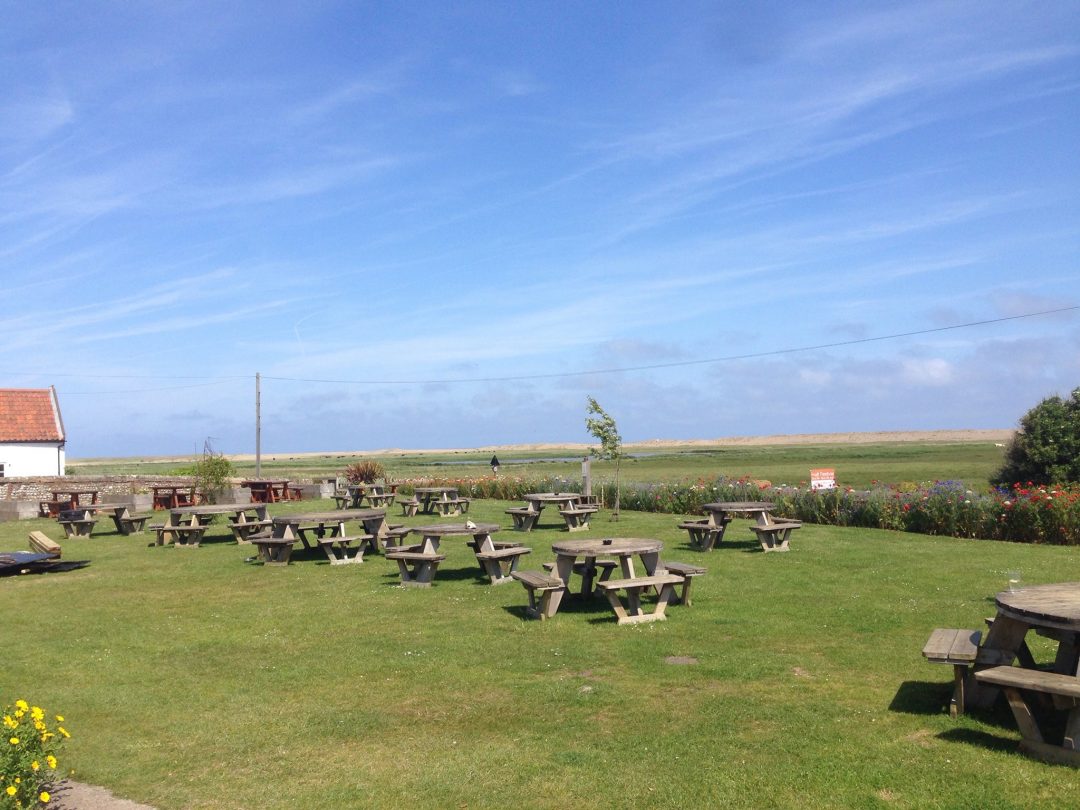 The Three Horseshoes (Warham – Close to Wells)
A traditional community village pub with a great sized beer garden. Bursting with character, and in a beautiful setting this off the beaten track pub is well worth a visit!
With a large walled garden, it makes for a pleasant spot to enjoy a weekend meal out or afternoon pint. Local breweries Adnams and Woodfordes are on offer with a selection of some of the finest ales Norfolk has to offer!
Perfect for families and those visiting with dogs!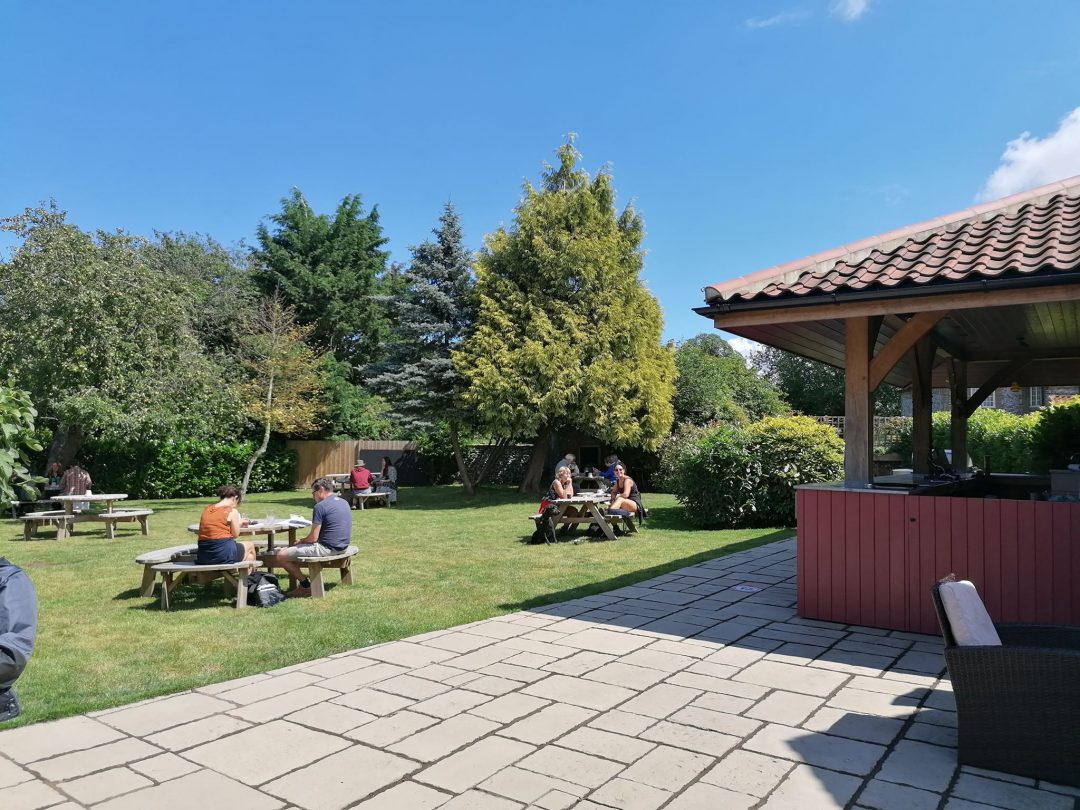 The Kings Head Letheringsett (Near Holt)
A stones throw from the market town of Holt, The Kings Head offers a lovely family-friendly country garden.
Great for those with children, the garden is spacious with a play area and climbing wall. Perfect for keeping the kids busy whilst you enjoy a freshly poured Brancaster Brewery ale.
Positioned just 10-minutes south of Salthouse, Blakeney and Kelling, it's a brilliant spot to stop whilst exploring the North Norfolk coast.