Norfolk's Best Pet-Friendly Beaches
We have some fantastic pet-friendly, seaside properties all over Norfolk because we know how much you love to share your holidays with your pets!
We're huge fans of dogs. There soft, happy, furry, beautiful, wonderful, ridiculously lovable creatures that all of the adjectives in the world could not do justice. They truly are man (and woman's) best friend.
What we also love are pet-friendly holidays!
We as humans love holidays, and there is little doubt that our favoruite companions also like to take a little trip out to see what's beyond the garden fence! There's little better than watching your dog inquisitively explore, whether he's taking a sniff at the new chair in the lounge or a tree that's yet to become part of his territory. However, what dogs really love to explore are beaches. You can almost see the joy on a dog's face as he realises the amount of open natural space, he has to steam across at (what must feel like) 100mph! Water to splash in, sand to roll in and plenty of other beach friends to go and greet.
Luckily Norfolk has some of the best beaches in the country, with plenty that are dog-friendly and not overcrowded! Tie that in with one of our pet-friendly properties and you've found yourself (and your dog) the perfect getaway.
Holkham
You might remember Holkham beach from that now infamous seen (within Norfolk) with Gwyneth Paltrow in Shakespeare In Love. What Mrs Paltrow perhaps wasn't aware was that it's a brilliant beach to bring your dog. When the tides out there are incredible amounts of open sand for your dog to sprint across, you can guarantee he'll be all tuckered out by the time it gets to dinner time.
Best place to park and access the beach is to leave your car at the end of Lady Anne's Drive, right across from Holkham Hall. Then walk through the pinewoods, across the boardwalk and you'll come onto the open plains of sand.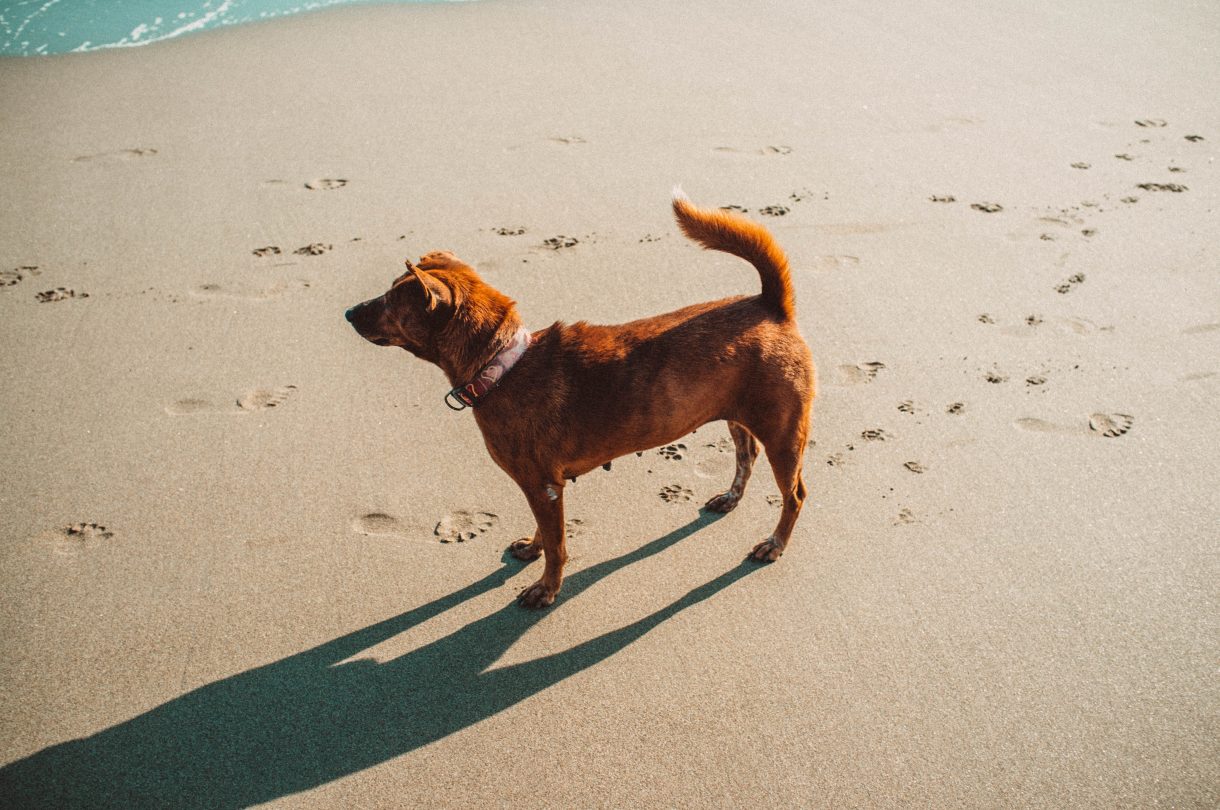 Wells-Next-The-Sea
Just a few miles down from Holkham, the beach at Wells-Next-The-Sea is one of the most beautiful beaches in the country, well renowned for its array of colourful beach huts.
Much like Holkham, the sea recedes out incredible distances when the tide is out, leaving a freshly formed layer of sand, with mounds, streams and huge open spaces for your dog to stretch his legs! It will satisfy even the utmost curious of pets!
Dogs are allowed on the beach at Wells-Next-the-Sea all year round subject to certain restrictions. A small area of the beach is kept dog free for families with small children. The majority of the beach is dog friendly however, so don't fret, you're certainly not limited! Make sure to head to the Beach Café to rehydrate on sunny days!
Where to stay:
Coming with the family? Might we recommend staying at The Hideaway? A terrific 2-bedroom property in a great area of Wells, pet-friendly with a private garden and parking!
Need a bit more space? Then why not try The Mousetrap offering 3-bedrooms, walking distance to Wells Quay and of course… it's pet-friendly!
Sea Palling
Perhaps my favourite of the bunch, and a great beach for your pets! This award-winning beach seems endless, with large open plains of sand, and often not very crowded this is truly a great beach to bring your dogs!
Initially as you come onto the beach over the concrete slope which leads from the small town of Sea Palling, you'll notice the huge concrete flood defences which are soon replaced by sand dunes the further along you walk.
With a small cafe, amusements and a great fish and chip shop, this is a wonderful beach to enjoy with the family and your dogs. There are dog restrictions in the summer at Sea Palling, but you can walk to the east of the beach.
Where to stay:
We've got the perfect property which is ideal for large family gatherings, and friend reunions. Manor Lodge is just a short drive from Sea Palling, has 6-bedrooms and even has it's over private indoor pool and sauna!
Horsey Gap
Just a short distance down the East coast from Sea Palling and you'll arrive at Horsey Gap. Known for being the home of the Grey Seal, new records were once again set this year with the number of seal pups born!
It is a dog-friendly beach, although it is advised you do not take dogs during the winter season as it will potentially disturb the seals. However outside of this period (November to January), the beach makes for a terrific place to take your companion for a walk. With one of the largest sand dune systems on the East Coast, it really is a fantastic place to take a stroll.
There's a small car park just down a short dirt road tucked behind the sand dunes of the beach. You'll often find a burger van or food wagon on site if you need a cuppa on a cold day to warm you up!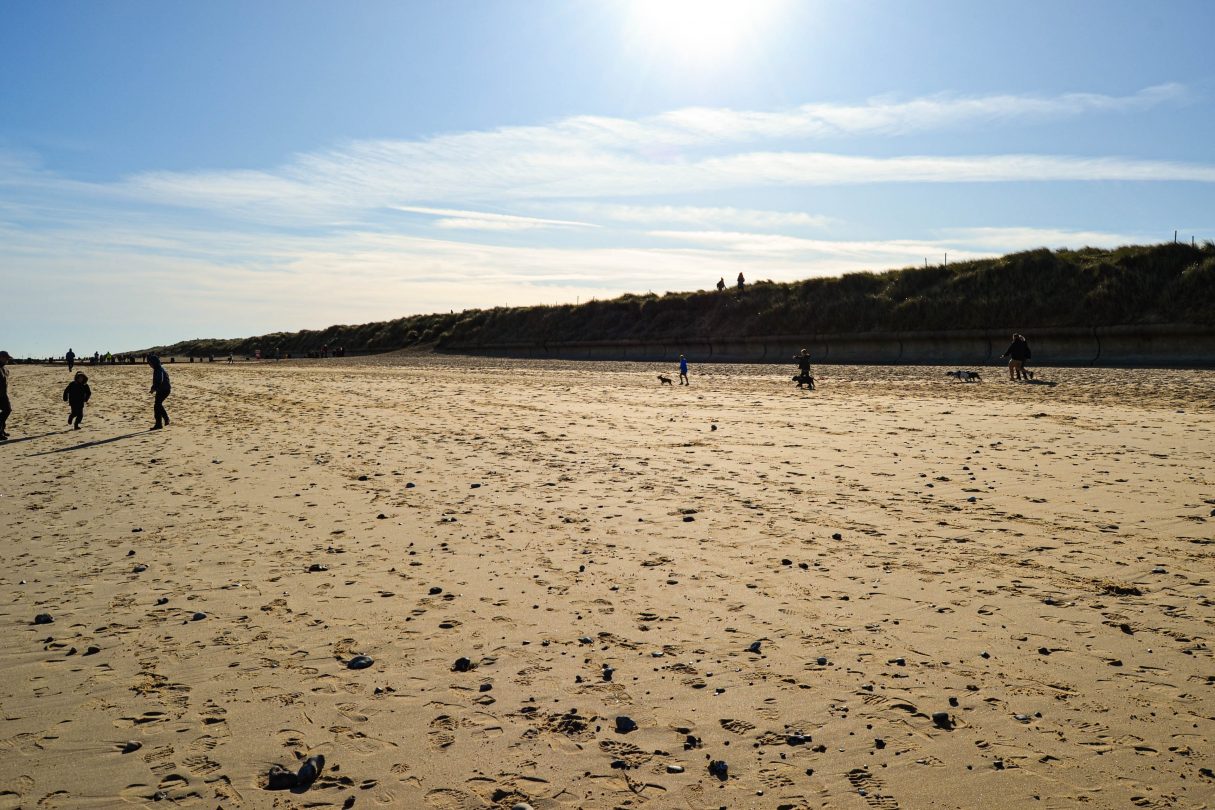 Blakeney Point Beach
A nature lovers dream. Blakeney Point is the unpredictable wild west of the North Norfolk coast populated with marshes, lagoons and waterways this National Nature Reserve is well worth a visit.
Blakeney beach is a part shingle, part sandy beach filled with sand dunes. Unlike some of our other favourites, you'll find few sunbathers here even during the summer months, instead mostly attracting walkers and wildlife enthusiasts.
This isn't your typical dog walking beach, with restrictions in place within the year due to birds nesting, and rules in place about keeping your dog on a lead. However, whilst this isn't the kind of beach where your going to be able to watch your pet roam free, it is still a brilliant place to be amongst nature with some of the best walks and sights in the country. As long as you stick to the rules, there's no reason not to bring your animal companion along too!
Where to stay:
We have some brilliant homes, perfect for family trips to the this part of the Norfolk coast. Just a short distance away from Blakeney is the stunning village of Salthouse which is home to the famous Salthouse Marshes! If you're looking for a 3-bedroom home, with a private garden and bunk-beds for the kids, then look no further. Marlpit Cottage is a charming, rustic cottage, ideal for families and is of course pet-friendly!
If you need somewhere a little smaller, then we have a delightful 2-bedroom, known as Tystie cottage perfect for small families and couples with pets looking to explore the North Norfolk coast!
We have a range of pet-friendly properties all across Norfolk! From 6-bedroom houses such as Manor Lodge, to small 1-bedroom cottages on the beach like Fisherman's Cottage.
Whether you're interested in staying in rural Norfolk, or by the coast we have somewhere perfect for you and your pets.
If you'd like to see the full range of our pet-friendly properties please click here.